MARACHOWSKA ART & SIBERIAN BLUES
SHOP 
I GO TO PAINT NOW AT MY ART STUDIO! MY GLASS PAINTINGS SELL SO WELL THAT I HAVE TO RUSH TO MEET DEMAND! PLEASE VISIT MY FACEBOOK SITE TO VIEW THE MOST CURRENT PAINTINGS AND IN CASE YOU ARE INTERESTED PLEASE SEND ME IMMEDIATELY REQUEST TO MY E-MAIL ADRESS marachowska@gmail.com. RECENTLY MY PAINTINGS WHERE ARE SOLD BEFORE I WAS ABLE TO ULPOAD HERE. WOW! 
ART MARACHOWSKA ART & MUSIC SIBERIAN BLUES BERLIN
PAINTINGS, GLASS PAINTINGS, POSTER, PRINT, MERCHANDISE, CD´S, T-SHIRT´S, STICKERS, BUTTONS BY ARTIST MARIA MARACHOWSKA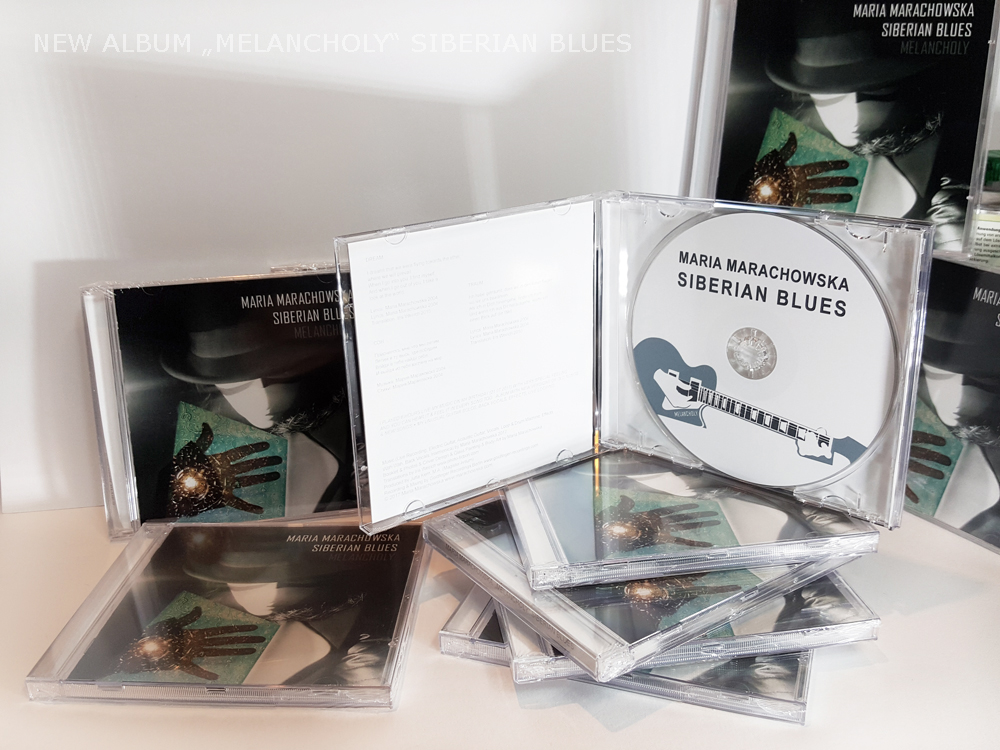 CD "MELANCHOLY" 2017
CD "MELANCHOLY" 2017
"I PLAYED 6 HOURS LIVE MY MUSIC ON MY BIRTHDAY (21.07.2017) WITH VERY SPECIAL FEELING
AND YOU CAN HEAR IT & FEEL IT IN EVERY SONG TOO...ALBUM WITH NEW VERSIONS OF OLD SONGS
& NEW SONGS + MY UNUSUAL GUITAR SOLOS, BACK VOCALS, EFFECTS, LIVE LOOPING..."

Live Recording, Electric Guitar, Acoustic Guitar, Loop & Drum Machine, Effects, Wah-Wah, Back Vocals,
Harmonica by Maria Marachowska 2017 www.marachowska.com
Booklet & Photos & Cover Design & Glass Painting & Body-Art by Maria Marachowska www.marachowska.com
Translations by Iris Weirich www.photo-fiction.com
Produced by Jutta Kern, M.A. (Magister Artium)
Recording & Mixing by Goldfinger Recordings Berlin www.goldfinger-recordings.com
© 2017 Maria Marachowska

Zuzüglich Porto und Verpackung.
AGB
-
Lieferbedingungen
aktuelle Angebote
Ergebnisse für 'marachowskaart', bereitgestellt durch
YOU CAN ALWAYS ORDER MY ART & MUSIC UNDER THIS LINK: https://www.paypal.me/MARACHOWSKAART
PRICE ON REQUEST. 
The artworks are open to offers. You will be notified if potential buyers make you offers to purchase this piece. Please send me E-mail to marachowska@gmail.com.
An installment arrangement for the exhibited paintings is possible.